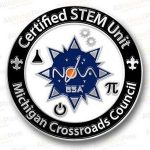 STEM Unit Criteria
Summary: Each Cub Scout Pack and Boy Scout Troop, Team or Crew is eligible to earn a new designation as a Certified STEM  Unit. Units earn this MCC designation by committing to making STEM a priority in their unit. Families today are looking for organizations where their sons are exposed to STEM, and Scouting has had this part of its program since inception in 1910.
Units earning this designation will be recognized by their Field Service Council STEM Executive and the MCC STEM Director. They will be able to promote this status to their community by wearing the special insignia pin (not required), and additionally, their "Be a Scout" description may be updated to include this emphasis. They will be allowed to promote this designation via their website, FB/social media and recruitment efforts. Download the Certified STEM Unit Flyer.  
Requirements
Effective September 1, 2016
Recruit a unit STEM chair. [Registered, trained member of Unit Committee]
In first program year*, commit to participating in the NOVA and Super NOVA Program.  10% of Scouts earn at least one NOVA Award each Program Year, and by end of 2nd Program year,  5% of Scouts will have earned a SuperNova Award.
Participate in 2 STEM related events/activities. These include (but are not limited to), trip to a local science center, nature reserve, zoo, etc.
Participate as a unit in 1 MCC/Field Service Council STEM event. These include STEM Merit Badge Training, Webelos Activity Badge or Cub Scout Adventure Loop event, STEM related Camporee, etc.
Unit must attend (Cubs) Day Camp or Resident Camp; (Scouts/Crew) Resident Camp or MCC High Adventure Camp each Program year.
*Program Year begins September 1st and ends August 31st each year.