You know about the great leadership and life skills our Scouts learn because you are the one leading them.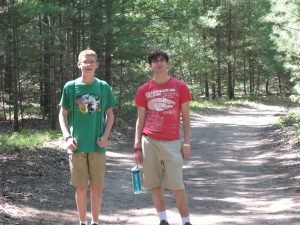 But, there are some great opportunities to spread the word and get other youth involved by letting your boys tell their own stories about what Scouting means to them.  This is what Peer to Peer Recruitment is all about.
You know how much more impactful it can be to hear about a new opportunity from someone who is already involved.  Imagine being a youth who knows nothing about Scouting receiving a first-person account from someone who can tell them how much it means to them to earn Merit Badges; go camping; or hang out with other Scouts at a Klondike event.
In addition to the potential for recruiting more youth into your Pack, this recruitment method will give your Scouts confidence in their ability to interact with others.  They will likely appreciate the fact that you consider them responsible enough to take on such a task.
You can download and personalize your own recruitment cards using the links below. Give each boy in your pack four cards and have them invite their friends to a meeting and watch your Pack grow!