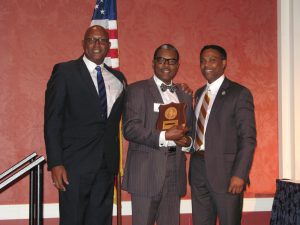 Cle Jackson, center, poses with Wayman Britt, left, and Eddie Tadlock, right, after receiving his award.
GRAND RAPIDS – Serving others is part of Cle Jackson's DNA.
While he doesn't volunteer for the recognition, he received it just the same today when he received the Whitney M. Young, Jr. Service Award, the highest national service award given by the Boy Scouts of America, during the annual Fulfilling the Dream luncheon at the Amway Grand Plaza Ambassador Ballroom.
Jackson is Senior Community Liaison for Blue Cross Blue Shield of Michigan and President of the Greater Grand Rapids National Association for the Advancement of Colored People.  He is being recognized for his dedication to serving youth in the inner-city.
"I'm humbled and I'm very appreciative that they would consider me for this award," Jackson said.
The Young Award recognizes outstanding service by an adult individual or by an organization for demonstrated involvement in the development and implementation of Scouting opportunities for youth from rural or low-income urban backgrounds.
"I've supported Scouting through recommending to the (BCBS) and the NAACP that they should support it," Jackson said.  "I'm always talking about Boy Scouting because I'm a Boy Scout and I'm always looking for opportunities to set up or start Boy Scout troops in the urban core."
Scouting in communities of color needs to be more intentional in terms of its outreach to communities of color and helping them to understand the value and resources Scouting can provide, Jackson said.
This outreach occurs through the Scoutreach program, part of the BSA's President Ford Field Service Council which provides Scouting opportunities to youth in 25 counties in western and northern Michigan.  Scoutreach brings character and leadership development programs to inner-city youth in the Grand Rapids metropolitan area.
Last year the Scoutreach program served more than 1,700 youth and provided programming in 33 churches, schools and organizations.
"Through his work with youth in the city's urban core, Cle has shown the dramatic and positive difference that is made in the lives of our young people," said Wayman Britt, Board President of the President Ford Field Service Council.  "His leadership has given these youth opportunities to create their own success stories and has also prepared them to be leaders of character and compassion in all areas of their lives."
Jackson knows firsthand how impactful a Scouting experience can be because he grew up in Scouting.  He joined a Cub Scout pack at his church where his mother was the den leader and was a Boy Scout in Troop 279 which met at the Baxter Community Center under the direction of Troop Leader Raymond Smith.
At the time Troop 279 was one of only two African American troops in the Grand Rapids area.
Jackson said the most significant thing he learned while in Cub Scouts and Boy Scouts was the importance of service and giving back and having a servant mindset.  This dedication to helping others was reinforced by his parents during his childhood
"Even though we didn't have a lot of money or things my mom and dad always emphasized giving of yourself and sharing what you have and always understanding that there is someone less fortunate than you are who needs a hand," Jackson said.  "Through church, volunteer and community service activities like youth clubs we were just always involved."
This service to others continued when Jackson went on to high school and then college in Washington, D.C., where he was involved in political and social activism and worked on projects including the development of a literacy group in the D.C. area.
He said he was attracted to BCBS because of the focus the company places on volunteering and community service.
"My job is really about service to the community," Jackson said.
Scouting taught him important survival skills on many different levels, but it is the character development that Jackson emphasizes to others.
"When you look at the whole concept of life skills, whether it be what true personal responsibility looks, or understanding what leadership looks like and the importance of civic engagement that will always be relevant," he said.  "The bigger question is not whether it's relevant, it's how does the BSA be more intentional in terms of outreach to all communities and making them aware of the resources available to them.  It's making sure that people understand what value a Scouting experience will give a young man."